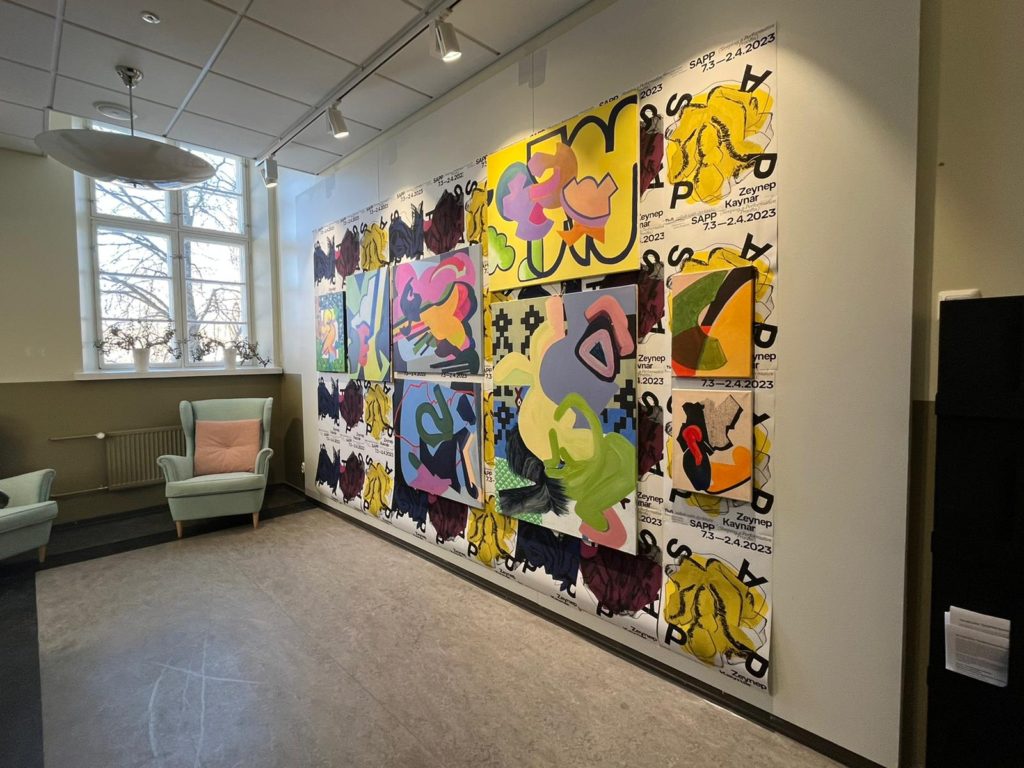 Poster Designs by Nikki Gavrilenko @r.kbshi for SAPP, 2023.
FI

Zeynep Kaynar:
SAPP: sleeping, a performative process
7.3- 2.4.2023
Kulttuuritalo Laikku, Tampere
TERVETULOA – VÄLKOMMEN – WELCOME
Nukkuminen on elintärkeää mutta kriisissä, ja sänky tuttuakin tutumpi huonekalu ja lähes välttämättömyys. Se on paikka, jossa ihminen keskimäärin viettää elämästään noin 26 vuotta, 9490 päivää ja 227760 tuntia. Lisäksi sänky on taiteessa aihe, jonka kautta on käsitelty kysymyksiä henkilökohtaisesti poliittiseen. Vincent van Goghin The Bedroom (1888) esittelee askeettisen makuuhuoneen ja kapean puisen sängyn tuoden esiin taiteilijaelämän askeettisuuden. Felix Gonzalez-Torresin "Untitled" (billboard of an empty bed) (1991), tyhjää sänkyä ja kahta tyynyä painaumineen esittävä intiimi valokuva puolestaan toi seksuaalipolitiikkaa koskevan keskustelun osaksi julkista tilaa esitystapansa, mainostaulu, kautta. Tracey Eminin My Bed vuodelta 1998 oli sängystä ja sen ympärille kertyneestä intiimistä aineistosta koostunut installaatio, joka dokumentoi taiteilijan päihteiden täyteisen elämänjakson ja koetteli normeja.
Zeynep Kaynarin SAPP: sleeping, a performative process näyttely puolestaan pureutuu nukkumisen problematiikkaan taiteellisen tutkimuksen menetelmin. Projektin luonne perustuu kieleen ja kognitiivisen kehityksen teorioihin tutkien eleitä ja mielen ja kehon suhdetta. Installaatiot, maalaukset ja piirustukset rakentavat visuaalisia merkityksiä, joiden kautta voi lähestyä abstrakteja tunteita ja kehollisia kokemuksia. Taiteilijan mukaan "näyttely on vertauskuvallinen kutsu hallita tunnepohjaisia ja fyysisiä reaktioita sekä selviytyä niistä elämän epävarmuuden edessä."
Zeynep Kaynar on Tampereella asuva ja työskentelevä turkkilaissyntyinen taiteilija, joka opiskelee elinikäisen oppimisen maisteriohjelmassa, ja on aikaisemmin suorittanut maisterintutkinnot kuvataiteen ja muotoilun ohjelmissa Istanbulissa ja Los Angelesissa. Taiteilijan töitä on viime vuosina ollut esillä useissa ryhmä- ja yksityisnäyttelyissä Suomessa, Turkissa, ja muualla Euroopassa.
Anna Jensen, Marika Lahdenperä & Emma Suominen


EN
Zeynep Kaynar:
SAPP: Sleeping, a Performative Practice
7.- 31.3.2023
Café Bar No 9
OPENING
7th March 2023, 5-7 PM
WELCOME – TERVETULOA – VÄLKOMMEN
Sleeping is vital. The bed is familiar, but even in crisis, it's almost the most essential piece of furniture. It is where humans spend an average of about 26 years, 9,490 days, and 227,760 hours of their lives. Additionally, the bed is a subject of personal and political issues n in art history through many artists explored. Vincent van Gogh's "The Bedroom" (1888) depicts a bedroom with a narrow wooden bed, highlighting the simplicity of the artist's life. Felix Gonzalez-Torres's "Untitled" (billboard of an empty bed) (1991), an intimate photograph showing an empty bed and two pillows with imprints, suggests a public discussion of sexual politics in the public sphere through its presentation on a billboard. Tracey Emin's "My Bed" from 1998 was an installation composed of a bed and personal items surrounding it, documenting the challenging life of an artist from the perspective of society.
Zeynep Kaynar's exhibition "SAPP: Sleeping, a Performative Practice" delves into sleeping problems through artistic research methods. The project is based on language and theories of cognitive development, exploring gestures and the relationship between mind and body. In the SAPP series, Kaynar uses installations, paintings, and drawings to underline the visual study of abstract emotions and bodily experiences of sleeplessness. According to Kaynar, displaying SAPP is a metaphorical invitation to examine emotional and physical reactions while searching for a coping mechanism in the face of life's uncertainty."
Zeynep Kaynar is a Turkish-born artist based in Tampere, currently studying Teaching, Learning, and Media Education at Tampere University and completed master's degrees in fine arts and design programs in Istanbul and Los Angeles. The artist's works have been exhibited in several group and solo exhibitions in Finland, Turkey, and elsewhere in Europe in recent years.
Anna Jensen, Marika Lahdenperä & Emma Suominen